Hello, I am Maggie Bell, Counsellor,Hypnotherapist & Life Coach…
I offer a A FREE INITIAL MENTAL HEALTH ASSESSMENT based on over 25 years NHS experience; inpatients, community and private practice.  Call me now on 07950 906421 or 07704 455944 to arrange yours.  I will be delighted to hear from you!
 Bromley/Lewisham/Grove Park Practice:
As you can see… I practice is in a very private, natural, secluded and confidential setting adjacent to the green chain walk; where there is wildlife, running water; and a peaceful environment that will allow you to really touch base with yourself .  This confidential therapeutic environment alone will help you to explore easily with me any difficulties you are experiencing. 
The way I work as a Counsellor:
FREE pre-initial mental health assessment.

INITIAL therapeutic mental health assessment session; (therapeutic hour).

Exploring past, present and what you want from the future; and more importantly what you want from therapy.

I constantly review strengths and progress and reflect this back to you, as well as help you to identify the symptoms, underlying issues and the negative patterns.

The therapies I offer are vast and flexible helping you to mix and match what you feel works, or will work for you…you are in the driving seat…I am your navigator.

I help you find your own answers as they reside in you, however, I will help you to access them.

You are unique so I tailor the therapy or therapies that you choose to be specific to you as a person and not just the symptoms.

I work with what you bring and what you do not bring.

Consistently and timely reviewing your progress and reflecting back to you, throughout our work together, creates a layered strength to strength positive pattern which you can build upon yourself.
The way I work as a Hypnotherapist & Counsellor:
FREE pre-initial mental health as

sessment.

INITIAL therapeutic mental health assessment session (therapeutic 75 mins).

Hypnotherapy underpinned with counselling (90 mins)
The way I practise, and where I practise, is both warm and professional, where the milieu is already so peaceful with the sound of running water, the smell of nature, where there is vibrant colour and sporadic wildlife; which is adjacent to the Green Chain Walk.  
Will Counselling help you?
Counselling is working mostly with your conscious mind; the one you know. 
One to one, face-to-face, counselling can help you to discover who you really are.  It can give you a clearer visualisation, and strengthen all your senses to enable you to see yourself from your outside world more clearly.
Counselling can support you through difficult times; it is a process.  Every session counts!!! as well as the overall process of more than one session.
Seeing ourselves from outside looking in can build a bigger picture of our perception of our world, and our self within the world we perceive.
At times you may feel emotionally entwined and become entangled in negative psychological patterns.
Meeting your true self can ground and support you in a world that is constantly evolving, or a world that has been disturbed by loss, trauma, adjustment, or change of circumstances.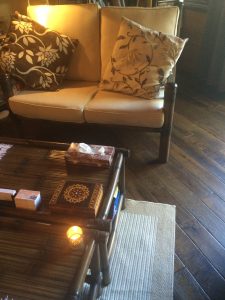 Will Hypnotherapy help you?
Hypnotherapy is working with your subconscious/unconscious mind as well as your conscious mind.  This where all your habits, memories, dreams, body language, and your natural functions are controlled.
I work one to one; face to face; for 90 minutes so that you can really experience the best trance, underpinned with quality psychotherapy.  You will always be aware, and there is not anything I can make you do, that you do not want to. 
"Hypno" is greek for sleep.  And the word "therapy" is a treatment to help a person to get better. 
The experience itself is so much more helpful than words can describe.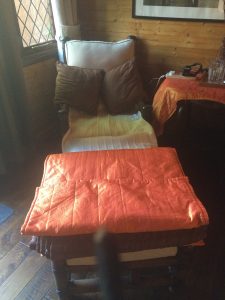 What is Neuro-Linguistic Programming (Life Coaching)?
NLP focusses on your strengths.  Language helps me to determine where some of those sensual strengths are; so I focus on your language.  Language is split into content, tone and body.  (read more)
Therapies I offer (and specialise):
Person Centred (Humanistic) Therapy:
…in summary one-to-one counselling basically focusses on you feeling understood (empathy) in a warm and professional environment (where trust can build) where you will not feel judged. This is a very important aspect of any therapy and needs to be right for healthy growth; just like a see planted in the right kind of soil to grow strong healthy roots.  When working with me the counselling would be goal orientated, with success measured…this is my work…you do not need to worry.
Cognitive Behavioural Therapy (CBT):
…in summary establishes the symptoms and learning the negative patterns that will be repeating. To be honest most people have already started to identify negative patterns when looking for professional therapy, however, with trained professional experienced therapist (acting as your outside world in therapy), reflecting back to you a bigger picture where the therapist is not emotionally held back within the process, you can then start to visualise your bigger picture and make it tangible, and access it to consciously make changes. This therapy has the option of working in the session and then, if you want, having work to apply to outside of the session. This can provide a paper trail where you can then see your progress within a therapeutic approach, however. this may not be something you would want to engage in, for one reason or another, and so if that is the case; we work with the way that is best for you where I will tailor the work to your individual needs as a person and the natural strengths you hold.
Psychodynamic Therapy:
… in summary focusses on looking at your past, maybe as far back as childhood, or maybe not so far back, but certainly looking back at what might be affecting the here and now, as part of the problems, and thus relevant to the issues being experienced. Experiences over time can become distorted, misunderstood, and /or your recall is very accurate. Either way distorted and misunderstandings can be explored as well as negative experiences that you accurately remember can be worked through in a safe environment with a satisfactory outcome.
As, already communicated, the above therapies are a summary only; of an combined integrative approach, and one may feel more prominent individually at certain times in the process – however, you will not overall notice the integration as that is my work, albeit I feel it is important for you to understand the process in order to be able to make an informed choice or decision as to whether you feel this would be helpful. What you will notice is a very flexible approach where you will start to feel autonomous over the symptoms and thus take control of them and other areas of your life.
Integrative Counselling: (combining Personal Centred, CBT & Psychodynamic):
… in summary offers 3 main theoretical psychological therapies; Psychodynamic, Cognitive Behavioural Therapy, and Humanistic (person Centred), (see below more); which allows a very flexible approach, which also allows for working within any one of these approaches depending upon what you are looking for in terms of psychological support.
Couple Counselling:
… can help individuals in a relationship to see themselves more clearly and how their individual past experiences, and other external factors, impact on their relationship. Relationship therapy can also help both individuals see the relationship as a whole, from the 'outside' looking in, rather than just staying caught up in the emotional turmoil, and therefore only able to see the relationship from the 'inside' looking out, and feeling weighed down in the current viscous cycle further complicated by past individual negative experiences and misunderstandings and external factors. Couple counselling is different from 1:1 therapy in that the therapy focusses on the relationship and only the parts of each individual that effect this (either positive or negatively)
Bereavement Counselling:
…I specialise in bereavement counselling and continue to work with people who are experiencing the grieving process, as well as people who are endeavouring to come to terms with any huge life changing event. Bereavement Counselling can help you to learn where you are in the bereavement process (or in the process of a life adjustment) and work through it. The bereavement process is connected to all kinds of loss; loss of person or person/s through death, the loss of a job, or a relationship, or even your confidence as you once knew it to be positive, or a life adjustment.
MY SPECIALISMS:
Anger:
Anger is a natural emotion. Anger is not the problem usually; rather the actions we take when we feel angry. Anger can be displaced into relationships that we care about; ie where we project our anger onto another person, or people, that are close to us. When this happens it means that anger is effecting your relationships; especially the relationship you have with yourself. read more
Anxiety: 
Anxiety may appear in the form of many different presentations. It can feel symptomatic of other more serious conditions and exacerbates the symptoms. In my experience anxiety can feel very scary. This is a field that I have come to know more about due to it being so common today. read more
Health Anxiety:
Health anxiety has its roots in a person thinking that they are getting unwell, or where everyday symptoms are catastrophized.  It can be very distressing to the individual.  Even thought the person knows on a rationale level that the symptoms are nothing probably to worry about, the person feels compelled to go to great lengths to convince themselves that everything is fine.  This can be exhausting for the individual and interfere with general functioning.  (learn more)

Panic Anxiety: 
Panic attacks can start for many different reasons. The good news is that they can be managed and with time controlled. (learn more)
Phobia Anxiety: 
Phobia anxiety in my experience is usually the result of something that is totally unrelated to the phobia itself. However, every phobia is different as is every individual.  (learn more)
Social Anxiety: 
Crowds, relationships, performance, work, and areas can all be a struggle when a person is experiencing symptoms of social anxiety. It can hold a person back. Working through what your personal difficulties are with regards to social and relationship anxiety can help you to gain insight and tackle the symptoms and thus move forward.  (learn more)
Confidence Building: 
At times we can all feel like our confidence has been impacted. You may be someone who lacks confidence generally, or you may have had a incident, or a relationship, that is effecting your confidence levels. Where a person feels they have been reducing in confidence; equally it can be built up positively again, or grown if it never existed in the first place. When you focus on yourself the only way to go is from strength to strength.  (learn more)
Depression: 
We can all experience low mood at some time or other. Exploring what is the underlying cause can really empower you to take control of your mood. Once you understand just feeling empowered can impact in a positive way on you mood. However, the symptoms of Depression or low mood can be a chemical imbalance which may require medication. A therapeutic arrangement in place is a start.  (learn more)
Eating Disorders: 
Eating Disorders can develop very slowly with our closest loved ones not realising there is a problem; including the person with the issue.
At the extreme end of weight control, under weight can be a major problem just like obesity.  Underweight and obesity can be the symptoms of something underlying.
The relationship you have with food is the same as any relationship.  It can require a little focus to look at the relationship more objectively and how it can be enhanced.  
Fertile Body Practitioner: 
I am a Fertile Body Practitioner and specialise in fertility issues using the Fertile Body Method. The Fertile Body Method (FBM) is structured and focuses on six stages.  (learn more)
Hypno-birthing: 
I am a specialist trained Easi-birthing practitioner.
Stress Management: 
Stress is usually divided up into two parts.  Healthy stress and unhealthy stress.  Why do we become stressed?  Well, usually it creeps up on us, as nobody would choose to become stressed…like you only know you are stressed sometimes when you have full blown stress…maybe with physical symptoms before you start to understand something is not quite right.  (learn more)
Weight Control & Healthy Eating: 
Managing your weight can be the earlier intervention to having to deal with a greater issue further down the line.  If you feel your weight is an issue then that is all that is important. 
Food can be enjoyable and if there are other issues in our life, we can turn to comfort eating.  Therefore overeating can be the symptoms of something underlying.   (learn more)
Smoking:
You can stop smoking easily if you really want to.  (learn more)
My skills in summary:
I am a qualified, experienced Person Centred Counsellor.
I am a qualified, experienced, Cognitive Behavioural Therapist.
I am a qualified, experienced, Psychodynamic Therapist.
I am a qualified, experienced, integrative Therapist.
I am a qualified, experienced, Hypnotherapist.
I specialise in couples counselling.
I specialise in bereavement counselling.
I specialise in fertility therapy.
I specialise in birthing therapy.
I specialise in stopping smoking.
I specialist in weight management.
I am a licensed Hypno-band Practitioner.
I am a qualified NLP Life Coach Practitioner.
My Qualifications:
My Therapeutic Mission Statement:

 
…..I endeavour to offer the benefit of my expertise and experience within an enhanced therapeutic setting;  where your natural senses will feel heightened, allowing opportunity for liberating your inner emotions to surface, in a safe therapeutic space, feeling supported (held) thus become more clearly connected (aware) of the current issues and their roots. 
…..I will endeavour to continue to learn and develop both personally and professional to give an array of therapeutic options, so that you can identify your personal changes that can bring you more balance to your life.
More images below of my practise:
My Personal Statement:
I strive to build on being an experienced, thoughtful and empathic, genuinely caring fully qualified Counsellor and Hypnotherapist and NLP Coach.
I have up-to-date enhanced CRB clearance.
I maintain continued professional development training in Counselling & Hypnotherapy.
I have full professional indemnity insurance.
I undergo regular monthly professional one-to-one, and group, supervision as stipulated by my governing bodies BACP & GHR.
Where you can find me:
127 Portland Road
Bromley
Kent
BR1 5AY
I am about a 15 minute walk away from Grove Park Station and Grove Park Bus Garage when cutting through Chinbrook Meadows.  The buses are the 126, 261, 136 and there are more buses that come from other areas to both Grove Park and Bromley North & Bromley South which are also close by.  There is a cab office at Bromley North, Bromley South and Grove Park.  Grove Park is closes.
See you there subject to an arranged and confirmed appointment!  Call 07950 906421 or 07704 455944